Connectivity Solutions
See all our Connectivity Products in our Store
Save yourself the trouble of USB cables and Bluetooth Adapters that don't work or require additional setup. EFI Analytics offers Bluetooth Adapters and USB to serial cables that meet our criteria and have been tested to work.
---
Wireless MegaSquirt via Bluetooth
Out of stock!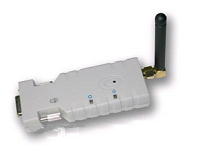 Proven, tested and pre-configured to work for your Android phone and MegaSquirt. When working with RS232 over bluetooth you quickly find that RS232 Bluetooth Adpaters vary greatly. With Bluetooth you will always see slower read rates than with a cabled connection, but with a good bluetooth adapter, bluetooth is plenty fast at 20+ reads persecond with some firmwares. However we have seen significantly lower data rates when using some devices, as much as 45% few reads each second. More commonly a newly purchased Bluetooth Adapter will not work at all until you figure out the configuration settings that are needed.
This is why we tested many to find one that out performed all others tested, then preconfigure them so it will work for you out of the box.
- Class 1 range (100 meters), so even with all the obstacles of a car, you can still tune outside the car and from a distance.
- Preconfigured for your MS1, MS2 or MS3
- No Need for Modification to your MegaSquirt or MicroSquirt!
- Highest read rate of any Bluetooth Adapter we've tested.
- Powered by Pin 9 on v3.0 or v3.57 board or use an included power adapter.
- Certified for use with Shadow Dash MS and Shadow Logger MS on Android
Product Setup Instructions (download)
Product Manual (download)
---
Tested USB-Serial Cable
Now Available in Micro-USB for tablets and Android Phones!
Insure reliable connectivity, use a tested cable! Current laptops rarely have real serial ports, utilizing USB port instead.The trouble is, USB just isn't an automotive standard, the lower 3.3v signal is much more susceptible to the high levels of Electro-magnetic Noise that exists inside many cars, especially race cars with high output ignitions!
Stop wrestling with connectivity issues, this USB to serial cable is built to our specifications and tested to work with TunerStudio
Featuring:
- FTDI chipset found to be the most reliable
- Well shielded 3-foot cable to prevent most EM noise issues
- Solid connectivity and is well shielded to prevent most EM noise issues.
- Support for Windows 8, Windows 7, Windows Vista, Windows XP, Mac OS X & Linux




Standard Type A


For most Laptops and PCs


$24.95

$17.95
Add to Order

---